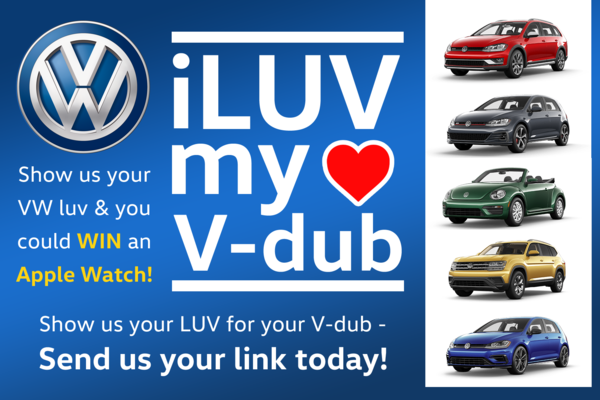 We know you *LUV* your V-dub. So why not show it off to the world? If your luv's big enough, we'll give you a FREE Apple Watch! The rules are simple:
HOW TO WIN/RULES:
E-mail us a link to your video online of you showing you talking about why you love your V-dub. Maybe you're cruising around Wascana - or headed on a road trip to the Qu'Appelle Valley - or simply just in your drive way gushing about your ride.
Your video must be a minimum 30 seconds - to a maximum of about a minute or so. Minimum 720p resolution - to a maximum of 1080p.
Entrants, simply fill out the form on this page along with the link to your video, online. (Apple iCloud, Google Photos, Dropbox, YouTube links are recommended.)
The video with the most combined Likes/Shares on Aug 31st will be the winner (in case of a tie the one with more shares wins)
Then, the winner will walk away with an Apple Watch (on your own carrier) or other Smart Watch of their choice up to $650 value.
The best quotes will be added to our Fall Campaign Billboard. Imagine seeing your name in lights! #ReginaFamous